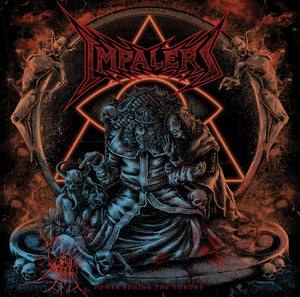 Debut album of Impalers. Originally released on March 5, 2013.
This version includes a re-recorded bonus track and was released on the 5-year anniversary of the album's original release.
Tracklist:
1. Fear
2. Power Behind the Throne
3. See What I See
4. Aggressor
5. Nuclear Nights
6. We Are Nothing
7. Army of Darkness
8. When the World Hungers
9. Death in Fire
10. See What I See 2018 (Bonus track)
Recorded at Six String Studios, November 2011.
Produced, mixed, and mastered by Søren Jensen.
Track 10 recorded at Death Island Studio, produced by Marco Angioni in February 2018.
Artwork by Kakak Lung.